That's right Diva Natural Hair are offering a full 20% in our exclusive summer sale 2013, not only that you will get a free DIVA Giftbag also!
So if you are wanting Indian Hair or perhaps Indian Hair or Brazilian Hair extensions this summer the use this code SS20 to obtain your discount. Please ensure you claim this at the basket stage of your purchase.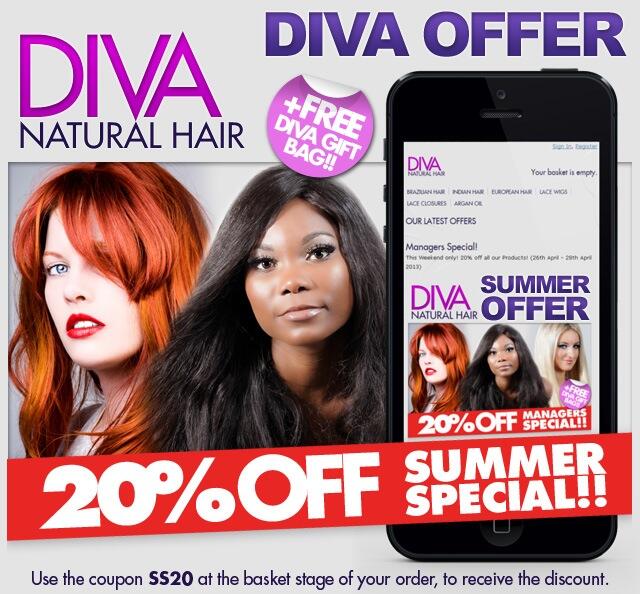 Posted on 28th Jul 2013 18:06:21 by ross
Tags: LACE CLOSURES UK, RUSSIAN HAIR UK, FULL LACE WIGS UK, INDIAN HAIR UK, BRAZILIAN HAIR UK.
Diva Nautral Hair are proud to supply full lace wigs to the wonderful model Nana Afua.

Nana had naturally very short hair but she desired to have much longer hair and looked to Diva to help her with a new look. Nana's transformation shows just how versatile Diva's hair really is! How about these for an eclectic collection of wonderful looks, all achieved using Brazilian and Indian Hair and Lace Wigs? See about Nana's transformation on our Diva Natural Hair Gallery page.

So if you have short or hair that you feel needs a transformation then why not try some our Indian Hair extensions, or give us a call for friendly advice on how to get the most out of your hair. Contact us via phone on 0778 393 7434 or via email at sales@divanaturalhair.co.uk

Posted on 19th Jun 2013 10:10:31 by surrect.media
Tags: INDIAN HAIR UK, BRAZILIAN HAIR UK, RUSSIAN HAIR UK, FULL LACE WIGS UK, LACE CLOSURES UK.
Maintaining the condition of your natural hair extensions is very important. The products and processes you use should always be gentle ones. We recommend Diva natural hair's Moroccan Argan Oil, this conditioning serum will leave your hair extensions healthy and shine. So regardless of whether you have Brazilian Hair, Indian Hair or even Russian Hair extensions we at Diva heartily recommend this wonderful product.

Please click on our dedicated page to purchase this product Moroccan Argan Oil or alternatively call us on 07783 937 434 to place a telephone order.
Posted on 13th Jun 2013 19:44:21 by ross
Tags: INDIAN HAIR UK, BRAZILIAN HAIR UK, RUSSIAN HAIR UK, FULL LACE WIGS UK, LACE CLOSURES UK.
Diva are delighted to announce the launch of the new mobile friendly version of their website Diva Natural Hair. Now you can buy hair extensions for either Brazilian, Indian or Russian hair direct from your mobile. So, regardless of your location, you can navigate to our domain and make your purchase.


Diva are specialists in the supply of Brazilian Hair UK, Indian Hair UK and Russian Hair UK, along with the provision of high quality Full Lace Wigs and Lace Closures UK. Contact us today on 0778 393 7434 or via email to sales@divanaturalhair.co.uk.

Posted on 27th May 2013 18:47:27 by ross
Tags: FULL LACE WIGS UK, LACE CLOSURES UK, RUSSIAN HAIR UK, INDIAN HAIR UK, BRAZILIAN HAIR UK.
When it comes to hair, fashion and beauty, knowing that you have the best item on the market ? whether it is the best selling perfume, the latest celebrity hair style or the top dress of the season ? is very important. Feeling confident in yourself is vital and can make you look or feel even better.
When it comes to hair extensions, more and more women are realising that going for the cheap and cheerful synthetic variety is simply no longer an option, especially with affordable, 100% natural human hair extensions now widely available and rightly considered to be far superior to anything manufactured.
Still not convinced though that you should ditch the synthetic extensions and upgrade to real human hair? Maybe you?ll change your mind after the best Indian hair extensions are compared next to the all too obvious synthetic alternatives.
Natural vs. Unnatural
When wearing hair extensions they should feel totally natural. After all, you?ll be wearing them all day and you?ll want to be as comfortable as possible. So what?s the answer? Buying some real human hair extensions of course! Perhaps the most sought after real hair at the moment is Indian hair. It is very versatile and can be treated just like real hair ? because it is just that. Curl it, straighten it, wash it, dye it or do what you want with it.
Alternatively you could invest in some synthetic hair. This is not real hair, merely a material that mimics it and as a result it will feel totally different to your existing hair. What?s more, you will not be able to colour or treat it, as it will not respond to real human hair treatments.
Long vs Short Lasting
One of the key reasons why Indian Hair Extensions are extremely popular is because they are fantastic value for money. A clip in Indian hair extension will last for a long, long time if you treat it right. Wash it as you would normal hair and you should expect it to look great for months and years to come.

Compare this to the synthetic, artificial varieties which are nowhere near as durable. They must be kept away from blow dryers and straightening irons; in fact, what?s the point of paying out for them if you cannot treat them as you would your normal hair? All it takes is to forget to take them out and blow drying your hair for them to be ruined and thrown out. What a waste of money that would be.
Remember, many years ago it was the case that synthetic hair was the only affordable option for ordinary women to get the hair of their favourite celebrities. But not anymore. 100% virgin REMY Indian hair extensions are considered to be the best quality extensions on the market and are available at affordable prices from specialist hair extension suppliers. Do not settle for fake synthetic hair, just do some research and source the highest grade human hair at roughly the same price but for much better results.
Posted on 24th Jun 2011 14:24:42 by diva.natural
Tags: Indian hair extensions, weave hair extensions, clip in hair extensions, human hair extension/s, hair extensions, Hair extension.